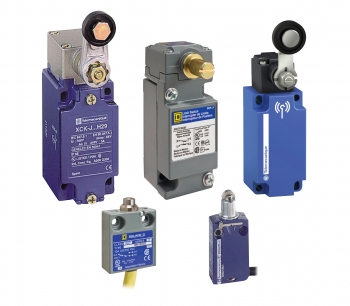 Eagle Sensors & Controls is anthorized Telemecanique distributor. Contact is with sales and technical support.
Boasting a rich history of limit switch innovation dating back to the early 1900s, we now carry the broadest line of mechanical limit switches available in the industry. This extensive range of options includes both the reliable Telemecanique Sensors brand (formerly known as OsiSense) and Square D brand limit switches.
Whether your machine application calls for an IEC, NEMA, safety, wireless, or battery-less limit switch, Telemecanique Sensors' unparalleled selection of mechanical limit switches and connector options make it easy to find the perfect solution for your machine design.
Our limit switches come in standard, heavy duty, compact, miniature, safety, and application-specific models and our wireless and battery-less limit switches are revolutionizing the industry.
The wireless and battery-less limit switches have transformed an electronic signal previously traveling through a cable into internet data which can be easily documented and analyzed for maximum efficiency identification.
IEC Limit Switches. NEMA Limit Switches. Safety switches. Wireless switches. Battery-less switches. Switches that turn a signal into internet data which enables industrial efficiency analytics.
All from the innovative global leader in Limit Switch technology!
Simply easy!

XCKN Limit Switch brochure