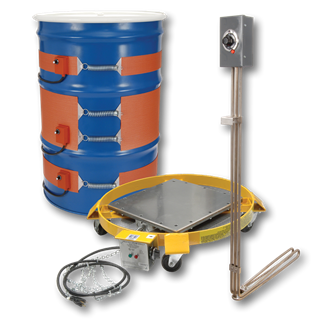 Eagle Sensors & Controls is an authorized Tempco distributor. Contact us for sales and application support.
Tempco Drum Heaters are an easy and efficient solution for freeze protection, viscosity control, and temperature management of your stored fluids. Full Coverage Drum Blanket Heaters insulate contents to keep the heat exactly where it needs to be.
DRUM HEATERS
Tempco offers a variety heaters that can be used to speed the flow of solid and semi-solid materials within a drum including Blanket Drum Heaters, Drum Immersion Heaters, Heated Drum Dolly, Metal Jacketed Drum Heaters and Silicone Rubber Drum Heaters.
Common Applications
Adhesives Heating
Chemical Component Heating
Diesel Fuel Heating in cold weather
Grease Heating in cold weather
Metal Drum Heating
Plastic Drum Heating
Portable Drum Heating
Process Materials Heating