Solid State Relays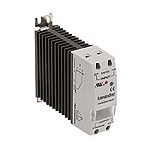 MDI offers DIN rail solid state relays, both in single and three-phase versions. Amperage ratings are 20 amp through 70 amp single phase. MDI also offers a 3 pole 50 amp or 2 pole 75 amp version.

Autonics offers both single and three phase DIN rail solid state relays.

MDI offers single phase solid state relays with built in LED and varistor. Amperages range  from 25-100. Input voltages 20-280 VAC or 4-32 VDC.

HB Controls offers phase angle solid state relays plus zero crossover versions. LPC Series (PDF)