Safety Light Curtains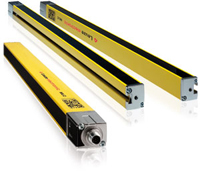 Leuze Electronics offers high quality safety light curtains with competitive pricing. The light curtains are manufactured in the USA therefore delivery is a matter of 2-3 days. Class II and Class IV ratings are available. Integrated blanking and muting functions are easily set up to provide application flexibility.

Leuze offers 3 types of safety scanner lasers. These can be used for guarding a wide area of concern.

Leuze offers several single beam safety devices.

Leuze has a wide variety of safety relays as well as safety programmable controllers to compliment the above products.