High Temperature Heater Wire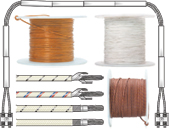 Eagle Sensors can supply heater wire to help facilitate you heater installations. It is very important to choose a wire that will with stand the ambient temperatures they are subject too.
We offer ratings of 550 degrees C, 450 degrees C and 250 degrees C. All are rated 600 volt.