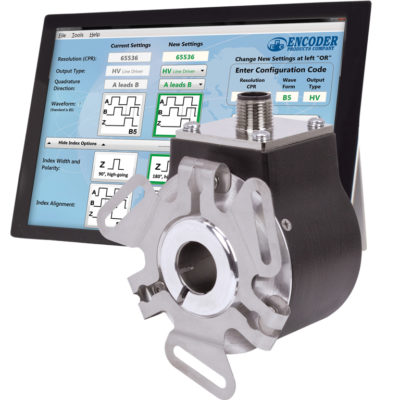 Eagle Sensors is an autorized distributor of Encoder Products. Contact us with any questions.
EPC's Accu-CoderPro™ programmable encoders are specifically designed for the challenges of an industrial environment. Contained within the rugged, industrial housing is an advanced set of electronics that allow the encoders to be programmed to your exact application needs. Choose from 6 different output types, 32 different waveforms, and program any resolution from 1 to 65,536 CPR – that's 262,144 counts using 4x quadrature counting.
These programming features allow a single encoder to be configured for multiple applications, enabling one encoder to replace many different part numbers, providing cost savings on inventory — and shortening down-time for replacement. Available in shaft, hollow bore, and thru-bore, these encoders are highly mechanically configurable and offer a range of bore/shaft sizes, different mounts, a variety of connectors,  and sealing up to IP67.
Model 58TP
Model 25SP